In this tutorial, you'll learn how to install and configure iptv subscription on Formuler Z boxes using the MyTvOnline or MyTvOnline2 application, which supports Stalker Portal technology.
Boxes from the Formuler brand are considered to be the best IPTV boxes around. These boxes run on Android TV, so you can install all the applications available on the Playstore, including your special IPTV VPN ;). But above all, these set-top boxes are perfectly optimized and specialized for IPTV subscriptions. Like Infomir's MAG boxes, installation is hyper-simple for the user. Everything is done via the MyTVOnline application.
MyTvOnline and MyTvOnline2
This application has been designed and developed by the Formuler brand. It lets you enjoy all pay-TV channels over the Internet on the brand's TV boxes. Of course, it's possible to install these IPTV subscriptions with the provider's Android app, as with other android tv boxes. But MyTVOnline brings features that are generally absent or impractical on the usual applications. With MyTVOnline, for example, you can :
timeshift (pause) on all channels
access the program schedule without leaving your TV channel
record live or recorded broadcasts
create a list of favorite channels
set reminders for programs to watch
All these functions are seamlessly integrated, and the ease and fluidity are unmatched by third-party Android applications. What's more, MyTVOnline makes the most of the technical features of Formuler's products. As a result, the picture is a thing of beauty. If you have a quality IPTV stream and a good TV, you'll easily see the difference between the "lambda" provider's application and MyTVOnline!
Version 2 of the application, MyTVOnline2, brings technical improvements. This IPTV subscription installation tutorial is therefore valid for all versions of MyTVOnline.
Subscription setup on MyTVOnline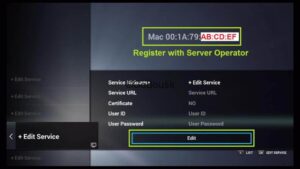 Get your MAC address Formulate
This MAC address must be communicated to your all-channel subscription provider. It is this address that will "authorize" your device to access the provider's IPTV servers.
To get this MAC address:
Start the MyTVOnline application
Go to Edit Portal
You should see your MAC address starting with 00:1A:79:....
Once your provider has validated your MAC address, it must send you the URL address of its IPTV server.
Setting up the IPTV server on the Formuler Z7+ or Z8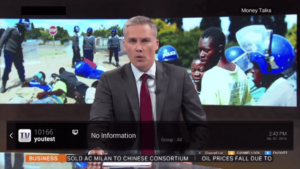 You are normally in the MyTvOnline application
Go to Edit Portal
Click on the Edit button
Enter a service name (the name doesn't really matter)
Enter theURL address given to you by the supplier (e.g. http://nomdufournisseur.com:8080/c)
Click on OK
The connection must work. Everything is ready for your entertainment!
If this doesn't work: either you've entered the address incorrectly, or your provider hasn't yet authorized your MAC address.
The MyTvOnline application can also be used with m3u playlists. This makes the application compatible with all IPTV providers, as well as your ISP!
Once in the MyTVOnline application
Go to Playlist
Click on Edit
Enter a Portal name (the name of your ISP, for example)
Then enter the Internet address where the playlist is located (https://exemplenomsite.com/maplaylist.m3u). If your playlist is not on the Internet, but you have a file stored on a USB stick or your hard disk, you can simply put the .m3u file on Dropbox (for example) and enter the Dropbox share link address here.
M3u VOD list (in general, nothing is seized)
XML TV EPG URLmay be useful if the program schedule is not managed / compatible with the m3u file. Otherwise, don't enter anything
Click OK